Total Utility Freedom by Sunergy Pacific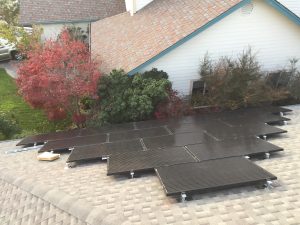 Residential Solar Power System in Santa Rosa, CA.  Full off-grid solar systems by Sunergy Pacific generally include batteries, generators, sophisticated inverters, as well as smart home automation systems that help you better track and control your overall consumption. The size and price of a full off-grid solar system will vary dramatically depending on the efficiency of the home and appliances, as well as the energy consumption habits of the people who live there. If you're curious what it would take to go off grid using solar, contact Sunergy Pacific directly for a free evaluation.
Full Off-Grid Solar System
A full off-grid solar system needs to provide 100% of your power at any time of the day. Because power consumption is a factor of behavior, your personal lifestyle choices and behaviors can have a dramatic impact on the size and price of a full off-grid solar solution. In other words, if you want to continue using any appliance you want at any time of day without concern, that's going to require a much larger and more complex solar solution, but Sunergy Pacific can help!
Contact us today for complete home power systems and installation of solar panels.